Things to Do in Iowa City IA, a fun college town with an artsy vibe can be found on the eastern side of Iowa. Exploring the university's art and natural history museums, as well as a charming literary walk, are among the cultural experiences available here. Iowa City, Iowa, has been designated a UNESCO City of Literature, and many accomplished authors have called the city home, thanks in part to the university's outstanding writing program.
Visitors can enjoy excellent restaurants, resorts, and other amenities. Here are the top things to do in Iowa City for a weekend getaway or day trip. Call the attractions and restaurants ahead of time to confirm current hours of operation.
19 List of Things to Do in Iowa City IA Today
1.Amana Plantations
Amana Colonies is a tourist attraction consisting of seven villages spread across 26,000 acres. A group of religious Germans who fled to the area to avoid persecution founded and built the colonies. The colony was nearly self-sufficient, with residents engaged in farming and crafting. The seven villages are now a popular tourist destination, with numerous craft shops and restaurants at city park.
There are several bed and breakfasts, hotels, and independent shops in the area. Visitors can learn about the colonies' history as well as traditional arts and crafts and agricultural operations. Special events and seasonal celebrations are frequently held in the villages.
Phone: 319-622-7622, 622 46th Avenue, Amana, IA 52203
2.Coralville Lake in Iowa City
The primary purpose of Coralville Lake is to prevent flooding and control water flow in the area. However, the lake also provides numerous recreational opportunities. There are 500 campsites spread across three campgrounds on the surrounding grounds. Fishing, both from the pier and from boats, as well as on the nearby river, is one of the available recreational activities at iowa river.
Hiking and mountain biking trails, swimming in the lake, sand volleyball courts, and picnic areas are also available to visitors. The lake is easily accessible from I-80, making it an ideal spot to spend a day or two at historic site.
319-338-3543, 2850 Prairie Du Chien Road NE, Iowa City, IA 52240
3. The Museum of Natural History at the University of Iowa
The University of Iowa Museum of Natural History is a museum on the University of Iowa campus. The museum, which was founded in 1858, houses a large collection of mammals and birds, as well as Native American artifacts.
The museum covers approximately 500 million years of Iowa history and delves into geology, culture, and ecology. The Mammal Hall exhibits almost every mammal species' evolution, adaptation, and diversity. Similarly, the Hall of Birds houses over 1,000 bird specimens. Self-guided tours are available during opening hours and guided tours are available with advance reservations at kinnick stadium.
319-335-0480, 17 N Clinton Street, Iowa City, IA 52240
4.The University of Iowa Stanley Museum of Art, located in Iowa City, Iowa
The University of Iowa Stanley Museum of Art houses one of the country's most important university art collections. The museum houses approximately 15,500 objects and works of art from all over the world. Painting, sculpture, drawing, photography, textiles, ceramics, and silver-working are among the mediums represented at iowa city farmers market.
The Elliot Collection, a collection of post-impressionist European art, and the Stanley Collection of African Art, which contains over 2,000 objects of African art, are two of the museum's most notable collections. Visitors can take a look at the museum's extensive collection of art and artifacts. Special group and class tours are also available. uima.uiowa.edu lists several temporary gallery spaces on campus and throughout the state.
5.Attractions in Iowa City: Gaslight Village
Gaslight Village, located on 2 acres of hilly woods in Iowa City's Historical North Side, is a historic landmark with many unique apartments and rentals. The village was designed to provide interesting and one-of-a-kind living experiences at a low cost iowa hawkeye.
The village's four buildings are set in a serene and quiet setting, and include two Victorian structures, the oldest of which, the Charles Berryhill Mansion, was built in 1860. The other two structures are rustic 1940s California-style homes. Many celebrities have visited Gaslight Village, and Kurt Vonnegut lived nearby at madison county.
319-430-0736, 426 Brown Street, Iowa City, IA 52245
6.Herbert Hoover Presidential Library and Museum, Iowa City, Iowa
The Herbert Hoover Presidential Library and Museum is the presidential library and burial site of Herbert Hoover, the 31st President of the United States. The Herbert Hoover National Historic Site houses the library and museum.
The library houses Hoover Administration papers, photographs, and objects, as well as the family's personal belongings. With prior arrangement, materials in the library can be used for research on mississippi river. The museum tells Herbert Hoover's life story and includes a temporary gallery with changing exhibits. The surrounding park grounds contain President Hoover's birthplace cottage, gravesite, and several period buildings. Activities in Iowa
319-643-5301, 210 Parkside Drive, West Branch, IA 52358
7.Hickory Hill Park in Iowa City
Hickory Hill Park, located in northeast Iowa City, is a large park. The park encompasses 190 acres of abandoned fields, forests, prairie, wetlands, and other natural areas that surround Ralston Creek and other streams at old capitol museum. The park has a number of amenities, including picnic shelters, picnic tables, grills, restrooms, water fountains, and multi-use trails.
The park is open to the public for recreational purposes and is a popular destination for nature enthusiasts who want to enjoy the outdoors, study nature, or go for a hike or run. Winter activities such as sledding and cross-country skiing are popular cold-weather activities at the park, which is open all year. The park's trails are also dog-friendly.
Phone: 319-356-5000, 800 Conklin Street, Iowa City, IA 52240
8. Iowa Avenue Literary Walk, Iowa City
Many accomplished poets, playwrights, novelists, and journalists have come from Iowa. The Iowa Avenue Literary Walk honors and explores the lives and works of 49 authors who have some connection to Iowa. The path follows a series of bronze panels that feature literary quotes as well as the names of the authors.
Other quotes about books and writing can be found within the sidewalk itself. The walk also includes an author section that includes biographical information about each author as well as information about the author's connection to Iowa. Brochures about the Literary Walk are available at Iowa Book & Supply and Prairie Lights Bookstore.
319-356-5245, 123 S. Linn Street, Iowa City, IA 52240
9.Old Capitol Building of Iowa, Iowa City, Iowa
The Iowa Old Capitol Building served as the state's main government building for many years. It is now a landmark and focal point on the University of Iowa campus. The structure has been beautifully restored and is now used for exhibits and educational programming.
The Hansen Humanities Gallery, the Senate Chamber, and the Supreme Court Chamber are among the highlights of a visit. Temporary exhibits and events are held at the iowa art museum. Throughout the day, tour guides lead groups on free tours. Reservations are required for both free public tours and private group tours as well as special events at downtown iowa city.
Phone: 319-335-0548, 21 N Clinton Street, Iowa City, IA 52242.
10. Farmer's Market in Iowa City
The Iowa City Farmer's Market is open during the summer and has two locations in Iowa City that are open several days a week. The market sells local, seasonal fruits and vegetables, as well as home-baked goods. Local crafters' wares are also available for purchase at iowa city area.
The market also allows customers to learn about local products and high-quality, locally grown food. Throughout the year, the market hosts a variety of family-friendly events. Past events have included tastings, kids' days, and live musical performances. The farmer's market hosts indoor holiday markets and events during the holidays.
319-356-5000, 410 E. Washington Street, Iowa City, IA 52240
11.Iowa City Attractions: Lake Macbride
Lake Macbride State Park is Iowa's most expansive state park. The park spans 2,180 acres and offers a variety of outdoor activities such as boating, swimming, fishing, camping, and hiking and eastern iowa. There are picnic shelters and a lodge in the park that can be reserved. The lake has a lovely beach with a swimming area and concessions.
A 5-mile crushed limestone trail follows the lake's shoreline around the lake at iowa city public library. Additional limestone paths and six permanent Volkssport trails provide additional recreational opportunities. The lake has boat ramps and boat rentals, giving visitors plenty of opportunities to see the park from the water.
319-624-2200, 3525 Highway 382 NE, Solon, IA 52333
12. Iowa City, Iowa's NewBo City Market
NewBo City Market is a market in Cedar Rapids' New Bohemia District. The market sells a variety of locally grown and produced foods, as well as art and events. Newbo City Market is housed in a former industrial complex that was flooded in 2008 and then abandoned.
Healthy eating, food access, and education are all promoted by the market. The market includes the Learning Garden, a wheelchair-accessible learning space dedicated to gardening education. Newbo City Market hosts a wide range of events, including fitness classes and film screenings. The market's website includes an event calendar.
Phone: 319-200-4050, 1100 3rd Street SE, Cedar Rapids, IA 52401
13. Plum Grove Historic House is one of the Things to Do in Iowa City.
Plum Grove is a historical home and the former home of Iowa's first governor, Robert Lucas. Eleanor Hoyt Brainerd was born in the house and spent her childhood there. There was a large orchard nearby with many plum trees when the Lucas family lived in the house, which is possibly how the house got its name, Plum Grove.
The house now sits on 4 acres of original land and is furnished in the style of the 1840s-1850s, when the Lucas family lived there. Visitors can tour the house as well as the historical vegetable and flower gardens for free.
Phone: 319-337-6846, 1030 Carroll Street, Iowa City, IA 52240
14. Silos and smokestacks in Iowa City
The Silos and Smokestacks National Heritage Area, which includes Iowa City, is dedicated to farms and agribusiness. The region preserves and interprets farm life, as well as the past and present lifestyles of numerous rural communities.
The heritage area encompasses one-third of Iowa, including 37 counties, as well as nearly 100 publicly and privately owned interpretive sites that tell the story of the region and agriculture in America. Brucemore, the Amana Colonies, and the Living History Farms are among the sites, which range from museums to tractor assembly plants and dairy farms.
Phone: 319-234-4567, 305 W Park Ave, Waterloo, IA 50701.
15. Terry Trueblood Recreation Area in Iowa City, Iowa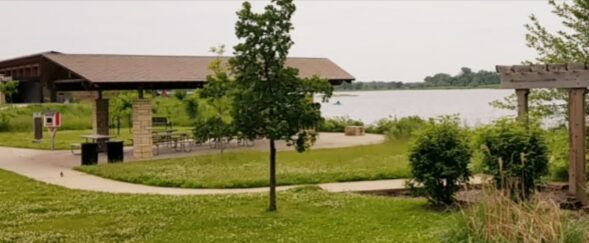 The Terry Trueblood Recreation Area is a 152-acre park that offers a variety of recreational opportunities and amenities. There are several trail routes in the park that can be used for walking or running. Fishing, birdwatching, and hiking are some of the other activities available.
The park has three picnic shelters and seasonal rentals of ice skates, kayaks, canoes, and other equipment. The Park Lodge at Terry Trueblood Recreation Area is a nearly 6,000-square-foot venue that can seat 150 people. The venue can be rented for weddings, parties, and other private events. The lodge features tables and chairs, a full kitchen, and a patio with a view of the lake.
319-356-5100, 579 McCollister Blvd, Iowa City, IA 52240
16.Jimmy Jack's Rib Shack, Iowa City, Iowa
Jimmy Jack's Rib Shack, with locations in Iowa City and North Liberty, has been voted the best barbecue in Iowa by Yahoo. The chain, founded by childhood best friends Jack Piper and Jimmy Adrian, aims to adapt classic Kansas City barbecue styles for Iowa diners, serving delectable sandwiches and full-service meals prepared with the restaurant's own barbecue sauce recipes. Diners can select from pulled pork, smoked chicken and turkey, beef brisket, or vegetarian smoked portobello options, or pile it all on with signature Supreme sandwiches and sampler platters. Baked beans, cole slaw, and the restaurant's signature honey-buttered cornbread are among the classic Southern-style sides.
Phone: 319-354-7427, 1940 Lower Muscatine Rd, Iowa City, IA 52240
17. Iowa City's Devonian Fossil Gorge
Devonian Fossil Gorge is a one-of-a-kind geological site where visitors can explore a 375 million-year-old seafloor. Long ago, this area of Iowa was covered by a warm, shallow sea, and many fossils from that time period bear witness to this. Floods in 1993 and 2008 washed away several layers of soil and rock, exposing the bedrock fossils.
The park has 17 points of interest, including the entry plaza, which interprets the site and includes displays about the nearby dam, fossils, and floods. A map of all the sites is available online and at the park's entrance.
319-338-3543 ext. 6300, 2850 Prairie Du Chien Road NE, Iowa City, IA 52240
18. Wilson's Orchard is located in Iowa City, Iowa.
Wilson's Orchard is a nature park and orchard on both sides of the Rapid Creek valley. The orchard contains a wide variety of apple trees that grow nearly every type of apple imaginable. Several pumpkin varieties are also available in the fall.
Visitors are encouraged to pick their own apples and pumpkins. Visitors who want to pick apples should first go to the barn to sample the different varieties and get maps of the orchard as well as an introduction. Wilson's Orchard is a great place to take the kids. Tractor rides and sampling a variety of freshly made food, such as apple turnovers and fresh apple cider, are among the activities available.
319-354-5651, 4823 Dingleberry Rd NE, Iowa City, IA 52240
19. FilmScene, Iowa City, IA
FilmScene is a small movie theater that shows new releases, classic films, film series, and workshops. The theater has a cafe and a rooftop patio and is located on the downtown pedestrian mall. The theater is run as a non-profit organization. Every year, the small, single-screen theater screens over 200 feature films.
Many of the shows include dialogues with filmmakers, panel discussions, and other activities, creating a rich experience for film fans. FilmScene is committed to the community, participating in a number of organizations and hosting numerous community events throughout the year.
319-358-2555, 118 E College Street, Iowa City, IA 52240
FAQs about Things to Do in Iowa City IA
Is it worthwhile to visit Iowa City?
Iowa City is a lively, cool, and youthful city in the state's east, straddling the banks of the same-named river. The city is home to the prestigious University of Iowa, and much of life revolves around its bustling campus and sizable student body.
What is Iowa City famous for?
Iowa City is known for many things, including being the home of the Hawkeyes and the site of Iowa's first capital, but we're also known as one of the best small cities for the arts. Local classics like FilmScene, the historic Englert Theatre, Hancher Auditorium, and the downtown music scene support the performing arts.
What kind of food is famous in Iowa?
Sour Cream Raisin Pie, Iowa Ham Balls, Scotcheroos, Maid Rite sandwiches, Steak de Burgo, taco pizza, snickers salad, and corn, corn, corn. It is also the leading pork producer in the United States.
When is the best time to visit Iowa?
The best time to visit Iowa is during the fall season, which runs from early September to late October. Everything, from the pleasant windy weather throughout the day to the affordable lodging prices, makes this the ideal time to visit this state.